Welcome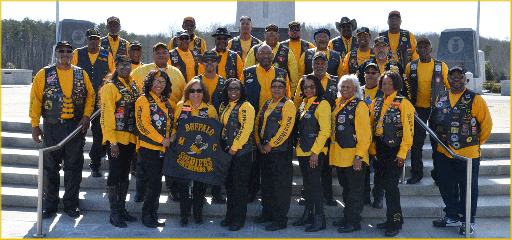 President Darnell Sharpless
On behalf of all Buffalo Soldiers, I welcome you to the website of the Greensboro Buffalo Soldiers Motorcycle Club. The Greensboro Chapter was formed in 2007 and is the 61st chapter of the NABSTMC. We wear the colors and ride under the name Buffalo Soldiers to commemorate the Pride, Respect and Dignity of those brave African American Soldiers of the 9th and 10th Cavalry.
Our focus is to be of service to our community. We have visited many schools and community events to educate our students, staff and parents about the Buffalo Soldiers and safe motorcycle riding. We provide scholarships for our high school seniors, and provide school supplies as part of the "Tools for Schools" program. We assist a local food bank as well as provide food to a local elementary school. This is just to name a few of the things we do in our community.
We welcome you to explore our site and offer thoughts, comments and reactions that you think might help us with our mission. We invite you to come to our meetings, and attend our functions. Your help is invaluable in our work to make this a better world.
Events
The 12th Annual Scholarship & Recognition Banquet.
When: Friday, December 14, 2018.
Where: The Khalif Event Center
2000 Wendover Avenue East Greensboro, N.C. 27405.
Tickets $35 per person.